VILA BOTANI EINE PERLE DER NATUR
Was & Wo
Aktivitäten

Unterbringung – Gäste sind herzlichst eingeladen einen Tag oder über Nacht bei uns zu verbringen. Auf unserem abgeschiedenen Gelände haben wir 5 Dschungel-Lodges mit Terrasse und Platz für 1 bis 15 Gäste.
Ökologische und gesunde Küche - Unsere Küche bietet leichte Gerichte an, die mit Ökologisch produzierten Produkten unserer Farm zubereitet werden.
Wo sind Wir & Wie kommen Sie dort hin – Unsere Farm liegt am südlichen Rand des Halimun Salak Nationalparks, siehe hier. Südlich von Bogor gelegen, ist Vila Botani ist einfach mit dem eigenen Auto oder unserem Fahrdienst erreichbar
Wer sind Wir? – Vila Botani ist die umgesetzte Idee eines multikulturellen Teams
WARUM VILA BOTANI?
In weniger als eine Stunde von Bogor und weniger als zwei Stunden von Süd Jakarta liegt
Vila Botani
an den Hängen des Berges Salak. In guter Entfernung zum nächten Dorf grenzt Vila Botani direkt an den Wald des 6000 Hektar umfassenden Halimun Salak Nationalpark. Am äußersten Ende einer Privatstraße eröffnet sich unser 5,5 Hektar großer Garten, ideal für einen gemütlichen Spaziergang. Oder sie gehen wandern oder erkunden mit dem Mountainbike den angrenzenden Nationalpark. Genießen sie den prachtvollen Blick auf die Lichter von Bogor in der Nacht und auf den Sonnenaufgang über dem Berg Pangrango. Da auf einer Höhe von 750 m gelegen schwanken die Temperaturen nur zwischen 19 und 27 ° C. Auch ihre Vierbeiner sind willkommen – Vila Botani ist tierfreundlich.
Ein Paradies für Naturliebhaber die sich für lokale Pflanzen interessieren. Unser Garten beherbergt 2000 Bäume, die botanisch erfasst sind und etwas 250 lokale Arten umfasst.
Vila Botani
profitiert von der Nähe zum Wald, von dem sanfte, kühle Brisen für Erfrischung sorgen. Daher ist dies der ideale Ort, um Ihren Körper und Geist zu der erfrischen. Weit weg vom lauten und hecktischen Alltag, inmitten einer außergewöhnlichen Ruhe können sie auf der Terrasse einer Dschungel-Lodge beim Hören das Quaken der Frösche, dem endlose rasseln der Zikaden und dem Vogelgezwitscher entspannen. Setzen sie sich unter einem Wasserfall und lassen sie das kalte, kristallklare Wasser auf sie wirken. Vermeiden Sie die lästigen Staus des Puncak-Passes.
Kommen Sie nach
Vila Botani
, um auszuspannen und die Natur der angrenzenden Bergregion zu erleben, die immer noch einfach, schön und unberührt ist.
Sei ein Entdecker
Entdecke unser verstecktes Juwel südlich von Bogor und genieß die Abgeschiedenheit.
Seid willkommen
Befreit von den täglichen Routinen, erleben sie hier die zeitlose Einfachheit des ländlichen Indonesiens.
"Jeder braucht Schönheit. . . Orte zum Spielen und zum Beten, wo die Natur den Körper und die Seele gleichermaßen heilt, tröstet und Kraft gibt." – John Muir (1838-1914), Naturschützer.
WHERE ARE WE?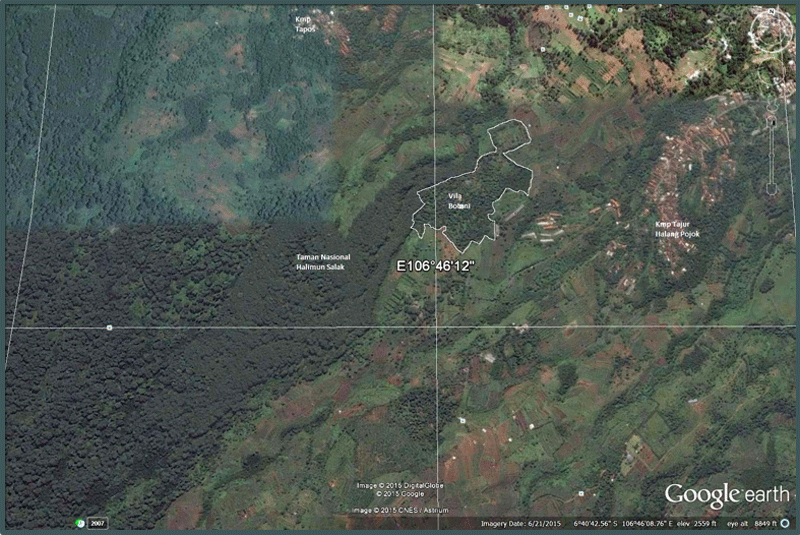 As the Google Earth photo shows, Vila Botani is located next to the National Park and rather far from the nearest kampong. At an altitude of 690-780m above sea level, Vila Botani overlooks the city of Bogor. It lies above Kampong Tajur Halang Pojok, which is the highest nearby kampong and is located in Kecamatan Cijeruk, Kabupaten Bogor. Kmp Tajur Halang Pojok lies above Kec Pamoyanan and The Jungle and can be approached via Pamoyanan or The Jungle.
HOW TO GET THERE
Go To This Link

Pak Jai
General Manager

Born 1967, Pak Jai manages Vila Botani from day to day, including personnel, finances, security, maintenance, and reception of guests. Has held this job since 2006. Originally from Bandung, where he finished high school, he has long lived in the village of Sukatani in Sukabumi regency. He is married with 4 children. Pak Jai connects to the internet but does not speak English. He is at Vila Botani daily except Thursdays and Fridays.

His story: "I enjoy working at Vila Botani because of the fresh air. This work has also given me the opportunity to acquaint myself with people from various backgrounds in Indonesia and even with foreigners with various manners and temperaments so that I have learned much about human character. It has also been a pleasure to learn more about organic farming, medicinal herbs and native tree species and to share this knowledge with visitors, including school kids and students."

Pak Oting
Deputy General Manager &
Manager of the Arboretum
Born 1965, Pak Oting has managed the arboretum since his arrival at Vila Botani in 2007. He has an elementary school education and comes from Sukatani village in Sukabumi Regency. He is married with one child. Upon his arrival at Vila Botani he was already familiar with more than 50 species of endemic trees from his own wanderings on the southern slopes of Mt. Salak above Sukatani in search of useful plants and animals. At Vila Botani he has learned to identify all of the 240 species in the arboretum. He is proud of having planted so many species, nearly all of which now thrive.
Pak Haji Agus

Organic farmer
Pak Haji Agus from Cipanas Regency was born in 1963 and long grew vegetables there. Pak Haji came to Vila Botani in 2007 and began to work on the organic farm. He was trained at Vila Botani in organic methods until 2012, after which he began work as an independent organic sharecropper.
Pak Acep

Manager Herbal Garden

& Compost Unit
Born 1967, from Tajurhalang village, Pak Acep has worked much of his life on the Vila Botani property or its immediate vicinity so he is our main source for the oral history of the period before 2006.